There are lots of ways to take action to support the causes you're passionate about. The first is ensuring you're enrolled to vote!
Outside of voting, there are many groups and programs across the state that young people can get involved in.
Below is a list of some of these opportunities, and even more are just a google search away!
YMCA Victoria Youth Parliament
The YMCA Victoria Youth Parliament program runs annually and provides the opportunity for 120 young people aged 16-25 to propose new or changed legislation on state issues that they are passionate about.
They get to debate these bills (proposed changes) in the halls of Parliament House, and at the end of the program, the Youth Parliamentarians' bills are passed on to the relevant Members of Parliament for their consideration. In the program's 35-year history, over 30 pieces of state legislation have originated from bills from Youth Parliament.
Throughout the program, participants build their advocacy skills, confidence, civic knowledge, and connection to other inspired young people across the span of six months, which is inclusive of two residential camps.
Team applications open at the end of each year. For more information, visit the Youth Parliament website.
The Y's Youth Voice
Youth Voice provides a space where you can learn about advocacy and how you can amplify your own voice, engage with content produced by inspiring young people, as well as share your own opinion pieces.
Listen to youth voices
Read, watch, and listen to the contributions of Victorian young people about issues that they're passionate about. Hear what young people have to say below.
Learn how to be heard
Find out more about what advocacy is and hear from other organisations about how they can help your voice to be heard loud and clear. You can also learn about how you can amplify your own voice and be heard, from some amazing young people who are already doing it.
Share your youth voice
Do you have something that you are passionate about? An opinion, observation, or issue in your community? If you are aged 12 – 25 you can submit your article, video, song, letter or any other type of content to be shared on our 'Listen' page. Read through the submission guidelines and start sharing your content today!
Local Council Youth Advisory Group
What is a Youth Advisory Group?
These groups (sometimes known as Youth Advisory Councils) allow young people to be representatives of the youth in their local council area and communicate needs and advice to council members. This can be a great way to directly talk to your local council about the things you are passionate about. Different groups will have varying responsibilities and purposes, so make sure to do some research to see if your council's group is the right fit for you.
Some organisations such as Headpsace, also have Youth Advisory Groups. These can also be a great way to have a say about specific issues that you are interested in. To find these groups, search for organisations that focus on the issues that you care about and check out their websites and social media.

Victorian Youth Congress
The Victorian Youth Congress (VYC) is an advisory group of young people aged 12 - 25 who work with state government to identify and advocate for issues that matter to young people. The VYC consults regularly with the Office for Youth providing insights and advice to embed a youth perspective and voice in policies, programs and decisions that affect Victorian young people.
Recruitment for the Youth Congress occurs towards the end of each year. For more information, head to the VYC website.
Youth Disability Advocacy Services (YDAS) Young Leaders Program
The Young Leaders Program is for young Victorians aged 14-25 who identify as:
having a disability
having a health condition or chronic illness
neurodiverse or autistic
deaf or hard of hearing
blind or vision impaired
having lived experience of mental health issues.
The program provides an opportunity for young people to grow leadership and advocacy skills and connect them to opportunities like jobs and volunteer roles. For more information, head to to the Young Leaders Program webpage.
Youth Affairs Council Victoria (YACVic) Blog
Do you have an opinion on an issue you want to share? Do you have a solution to a problem? What story do you want to share about being a young Victorian or working with young people?
YACVic wants to hear from young people and those who work with them to publish their opinions and experiences on their blog.
You can submit a written piece to their blog and if they decide to publish it, their team will be in touch to help you zhush the piece up and promote it across all their channels to reach a wide audience.
Use their blog as a platform to get your voice out there!
Find out how you can get involved in the YACVic blog.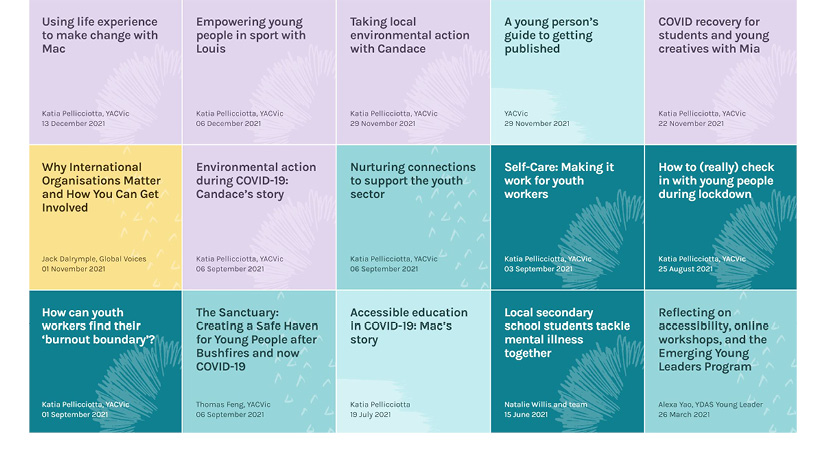 If you have enjoyed taking part in the VEC's Passport to Democracy training, then view Module 6 to find out more about the program and what you can do next!
Next Module: 6: Education and Community Engagement